Is Badoo Legit or a SCAM? – A Complete Review with Better Alternatives
Last Updated on February 6, 2023
The seaload of online dating sites are exciting, yet confusing. You have heard of a hundred names, but none sticks to your head because you are so overwhelmed by all the information and comparisons flowing your way.
Of all the sites available and ads flooding the internet, Badoo makes a frequent appearance. It may have crossed your feed when you Google "best dating apps". People seem to be all hyped up about it. Perhaps it is the magic fountain that will draw a new love interest your way every night.
Is it really as magical as they advertise? Maybe it's the dream, or maybe it's another trap. Before you get on board, make sure you understand everything about Badoo!
Badoo At a Glance
Badoo Advantages:
Core features are free to use
The photo verification process takes under a minute to verify a user's profile to minimize fake profiles on the app
Good for hooking up
Active members are prioritized on search results so you will unlikely be greeted by idle profiles
Badoo Disadvantages:
Difficult to find a long-term relationship
Privacy issues
There is no compatibility search as all searches are appearance-based
Explicit content is not allowed
Verdict: In case you just want to land on a quick answer without going through the analysis, here is the final verdict. Badoo is a decent online dating app with ample features available for users to make friends, find dates, and build an online presence. It matches people's expectations for social media.
However, the limitations pose a bigger problem to the trending app that cannot be overshadowed by its merits. The app is not designed for finding serious relationships at all.
Matches are based on physical attraction rather than compatibility. Exotic elements are also banned on the platform, leaving not so much room for the affair seekers. Besides, Badoo is infamous for its lack of security. Over the years, there have been data leaks and other security issues that have caused a backlash.
All in all, you will probably not be disappointed with a Badoo experience, but it will unlikely take you where you want to be. For similar price ranges, there are other premium options such as Adult FriendFinder, Ashley Madison, and Bang Locals that offer superb dating experiences, regardless of what you are looking for.
Is Badoo a scam?
Our bottom line? Yes. Badoo feels like a scam for the most part.
The way the platform is set up feels spammy in its nature. It pushes you to click for 'premium' pay-per-click features like showing your profile on the front page. But it may take several clicks before completing the action — not before taking several payments. And completing the action several times, pointlessly.
It is not transparent about its payment methods meaning it does not ask you to confirm one-click payments after the first time. This means you can get scammed into parting with money.
While Badoo can get you a casual date or a hookup, there is a lot to improve on the platform. For example, dating sites like Bang Locals offer an impressive geographical search that allows users to locate girls closest to them. It is fantastic and the most efficient way to connect with a date.
But Badoo does not have the best search engine in this aspect. Furthermore, its limiting features restrain the user experience. For its price, Adult FriendFinder would be a much better option as it offers everything Badoo does and more.
Most importantly, Badoo does not live up to expectations when it comes to online security. When browsing through a dating site, the last thing you need is to have your messages or profile hacked. There are other sites that guarantee users' security like Ashley Madison, which encrypts all the messages and automatically erases search history.
What Is Badoo?
Found by Russian entrepreneur Andrey Andreev in 2006, Badoo is an international online dating site with offices and services covering most parts of the world. Similar to other trending dating platforms, Badoo allows members to match with others according to their profiles.
On its official site, Badoo claims to have over 500,000,000 registered members around the world, making it one of the biggest dating sites. Instead of marketing itself as one, Badoo very often brands itself as the social media site for dating, stressing its functions and features that connect hot singles to make friends.
As a supposed hotpick, Badoo does not seem to have the attention other top sites are getting, despite the impressive statistics it throws. And for a reason. Make sure you understand how Badoo works before signing up.
Who Is Badoo For?
Young people in their 20s to early 30s
Age diversity is not a thing on Badoo. Sadly, you will only find youngsters between the age of 24 to 35 actively seeking matches. More importantly, these users are looking for matches similar to their age group. As soon you fall slightly out of range, your chance of finding a date immediately plummets.
Where Are Badoo's Members From?
Although Badoo operates in 190 countries in regions, most of its members are saturated in Europe. Members that are based in the US will have a more difficult time navigating through the app as there are relatively fewer active members in North America.
You can change your location to any European destination if you fancy an international romance and hold a premium membership. However, given the chill vibe on the app, it is unlikely that it will ever amount to anything special.
North American users, especially those in more remote areas, will find themselves running out of profiles pretty soon. Badoo is a city hype that is not as popular in smaller towns. Most of its users are from metropolitans. You may find the app less satisfying if you are based outside of the major hubs.
First Impression
Badoo does successfully give out a modern, high-tech vibe with its purple theme. Users will be directed to the App Store or Google Play to download the app from its website. This whole process is rather simple. The registration is as speedy as it gets and the user interface is updated and smooth. A fast site speed is always a good sign.
However the architecture pushes you to use their premium paid features like Encounter, to browse and like thousands of profiles, Super Like, Get More Views, or Get Featured. Other features include video chats, invisible mode which allows premium members to search and browse profiles without the person knowing it, sending gifts etc.
While all of these features can help you hook up, the site feels spammy and there are better sites out there with similar or better features. The age range and the singles available on the site is rather skewed towards the younger population. Most members are under 35. It does not seem to offer much diversity.
Content posted by users is screened regularly to ensure it meets community standards. It is a good way to protect members from harassment and keep the quality high. Same for the features it offers, although Badoo cannot be considered to have an extensive range of features, the features it does provide are of high quality.
Users will rarely encounter a bug or error. But the best advantage of Badoo is its large user pool. Officially with 500 million users scattered across the world. No matter where you are or how urgent you want a date, you can almost rest assured that you will find matches rather quickly.
There are plenty of limitations to what this site brings to the table. To begin with, despite having a good interface and smooth server speed, the features it offers are rather basic and simple.
There is anything hardly special about its features that can be listed as a major selling point. On top of that the site feels spammy, isn't transparent about payment and pushes premium features. Although Badoo puts an effort into stopping fake profiles, its security system in safeguarding personal data is not the strongest.
Many members and reviews have voiced their concern for how Badoo has potential safety risks that could lead to information leaks.
Finding a Match On Badoo
Matches are random according to your location
No compatibility matches are available
Unlocking the full profile without a match requires a premium membership
Matches are randomly generated based on your preferences for physical appearances. You can indicate your target profiles according to age, location, and other specifics. This matching feature is called "Encounter" on Badoo, where members can encounter similar profiles nearby the area. Only premium members can alter their locations to find overseas members.
The "Encounter" feature is fast in presenting hundreds of profiles in the area. But it does not filter members according to compatibility. Therefore, members have complained about having a low success rate as most matches turn out to not be a fit character-wise in the end. That's the biggest reason Badoo is mostly used for casual dating.
Badoo's failure to introduce a more comprehensive matching system to accommodate more audiences in the spectrum has led to a skewed dating scene. It is only favorable if you are looking for a casual relationship. Otherwise, it takes tremendous effort to build a connection and find someone that you are wholeheartedly into.
You will have to like a profile that has liked you back to create a match. Sending users a "smile" tells them that they are your favorites among all profiles, thus increasing your chance of being matched. A member's full profile is locked until it is a match to protect user privacy.
If you want to see the person's full profile without a match, you will have to use the "crushes" feature that allows you to unlock profiles. It is a premium feature for paying members.
The difficulty in finding quality matches depends on your expectations. If you are lightly browsing around without much anticipation, then you will land plenty of hot matches on Badoo. But if you have any specific requirements in mind, Badoo will not fulfill your request.
Messaging Members On Badoo
Multiple messaging channels including video chats
You can send stickers and memes
Messaging channels crash occasionally
Messaging on Badoo is quite fun as there are several features to elevate the ordinary texting experience. Members benefit from the numerous messaging channels, including voice notes and video calls. You can stay connected to your match even when you are traveling on buses or busy with work.
Providing multiple communication channels for members is a good way to retain loyal users on the platform. You can also send stickers and memes to make the conversation more interesting. Little did people expect that the ability to send stickers is quite a luxury in the online dating landscape. Most average dating apps do not support this feature.
Although Badoo offers an all-rounded communication experience, the system crashes quite frequently. The system does not seem to support its full HD video call feature well. Users will often experience a loss of connection while conducting long video calls.
Profile Quality On Badoo
Most profiles are genuine
Explicit content is censored so there is not much diversity or freedom on the site
One thing you can rely on Badoo is to find genuine profiles. Its strict membership screening means fake profiles are removed at once. Having a clean member base provides comfort for members to safely browse around.
Unfortunately, that is as good as it gets for Badoo. If you are looking for diversity, it is null. Despite having millions of active members, most of them are between 25 to 34 of age. Only users within this age range can gain high visibility and lots of matches. All other users will not get much attention because they are not the preferred profiles. It limits the success rate for users and reduces diversity.
Furthermore, vivid content is strictly censored on Badoo. The moderators frequently scan the site for explicit content that violates community rules. For users that do not particularly like sexy images, this may be a plus. But for the most part, it heavily restricts freedom and pushes away potential users. Badoo is built in a format that attracts its target audience, though it claims to be a dating app for everyone.
If you do fall into the selected category, you will have a good time on Badoo. However, even the slightest deviation from the algorithm will drag your profile down to the bottom of every search, significantly reducing your chance of getting a match.
On a side note, members are quite judgmental towards unconventional types of relationships or sexual fantasies. Anyone that expresses a desire for a threesome, an affair, or a sexual kink will probably get reported within a day. The site also automatically scans for sensitive words to remove these members.
It is not the environment you would want to be in if your values do not align with conservative romantic standards. Open-minded people may feel uncomfortable seeing how members will publicly trash others for their beliefs. Badoo does not create a friendly environment for all.
Is Badoo Safe?
Generally speaking, Badoo is safe. The administration team takes vigorous measures to eliminate every suspicious account. The chances of running into scammers and bots are low. Users can feel safe about meeting people on Badoo.
That is where the safety part ends for this hot pick because there have been numerous scandals surrounding Badoo's safety in other departments. Over the years, Badoo has taken several big blows about its safety concerns. There were a few data leaks back then. Since then, the app has ensured users that appropriate measures have been taken to prevent similar events from arising.
Still, it has yet to gain back users' confidence as its growth rate tanked since the scandals. There have not been any new scandals recently but Badoo has yet to gain its loyal members back.
Special Features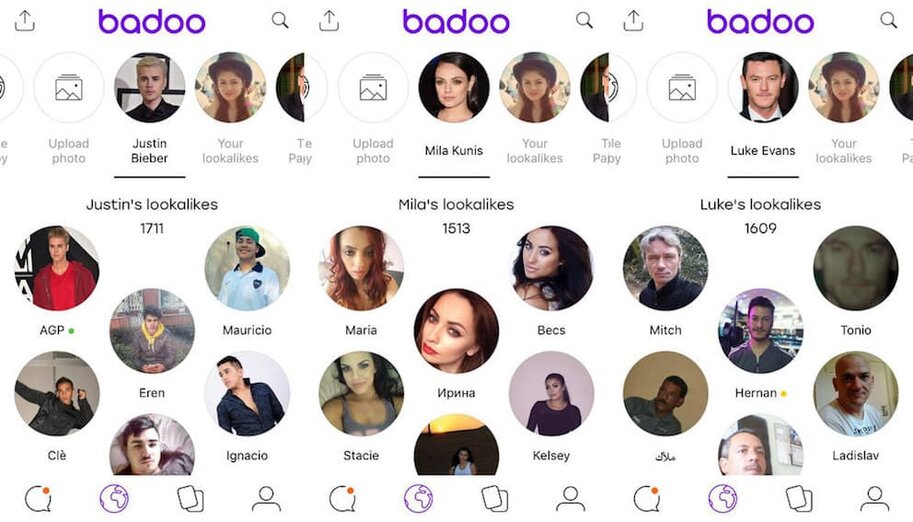 Highlight your profile on top of each search to boost visibility
Browse profiles anonymously
Pin your profile on top of searches
Gain additional credits by completing some tasks
When it comes to colorful features, Badoo has quite a few things to offer. Although nothing in its special feature list is original, the sheer amount of options still makes the app desirable. All of these special features are only accessible to premium users.
As a premium member, you can browse anonymously. It covers your digital trace so you will not get spammed by every profile that you visit. Its "highlight" mode also pins your chat on top of your match's chatroom. It is a great way to keep your chat afloat and remind your match to reply to you.
Pinning your chat on top is not the only thing you can do. You can also pin your profile on top of search results for additional credits. It places your profile first when new users perform a location search. Since Badoo does not offer a lot of filters when conducting a search, your profile will likely come first in every possible search in the area.
One interesting feature of Badoo is its credit-earning system. Aside from the subscription plan, members can unlock more features with Badoo credits. Features that require credit payments include the "rise up" profile-pinning tool. To earn additional credits, you have to complete some tasks for Badoo.
These tasks can change from time to time and are different for each user. You may be asked to fill out a questionnaire, leave a review for Badoo on Google Play or App Store, and match with a certain number of members. Upon completion, credits will automatically be logged into your account.
Special features are the essence of a dating app that either elevates the entire experience or breaks it. For Badoo, its special features are standard yet well-equipped. The only complaints members have is still the crash issues.
Badoo's server often fails to accommodate the large volume. Most of these special features crash easily and users are not getting the benefits without realizing it. Badoo still has a long way to go to fully fix everything. In the meantime, users may not be paying for what the service is truly worth.
Is Badoo LGBT-Friendly?
On the record, Badoo is super LGBT-friendly. Officially, it offers different sexual preferences and orientations for users to choose from. You can be looking for straight and gay people all at once. There is no limit to finding the perfect one.
That is how it claims to be but the reality is far from it. Being an LGBT member, your chance of securing a date is slim. Somehow, the algorithm prioritizes straight people, putting other people's profiles lower on search results.
The LGBT community has few members, making it hard to thrive on Badoo. Basically, users should not treat Badoo as a social networking app for LGBT dating. It will not do justice to other real LGBT-friendly online dating apps out there.
So, even though Badoo does provide the relevant amenities to make the place LGBT-friendly, it yields minimal results. If you are a member of the LGBT community, you would find Adult FriendFinder to be a much better option as it has a blossoming LGBT net for everyone.
Pricing For Badoo
The price for Badoo is reasonable to its competitors. The starting price is $3.99 per week, or $9.99 per month. Discounts are offered to those who want to commit long-term.
For 3 months and 6 months, it's $24.99 and $34.99 respectively. Badoo also offers lifetime access at only $59.99, which is very good in the industry.
However, be careful! As if you stick with the free version, you will also be pushed to pay for extra features with credits. These are topped up by card or mobile but are not always clear when you are paying or how much they will cost. Other sites do not feel as scammy in this regard.
Legit alternatives to Badoo
1. Bang Locals
Pros –
Simple safe sign-up
Simple interface
Great geographic match feature
Cons –
The site can slow down at times
Bang locals is a great hook up site that connects you to people close by, fast. The powerful search engine is superior to Badoo and you can filter easily to find the best match for you. There are minimal ads, and the interface is easy to use.
No accidental clicking or paying for one-click features by mistake. Members are screened and fake profiles are checked. Loading times can sometimes be a little long, but this is a small price to pay for an otherwise straightforward, fun hookup site to meet up without the fuss.
2. Adult FriendFinder
Pros –
Big network of users
Feature rich
Find longer term matches
Cons –
Interface can be a little confusing
Adult FriendFinder is great for both hook ups and longer term matches. Tap into a huge network of over 90 million users and find unique social-media style features like customized friend's lists, live streams and group chats.
Adult FriendFinder helps you join communities of people like you, which means you are way more likely to find a compatible match then with Badoo. Use group and video chats to get to know people like never before.
The site navigation can be confusing at times so it could do with a layout refresh. But it is the greatest liberal, sexy platform we know!
3. Ashley Madison
Pros –
Great for people looking for a discreet affair
Safe, secure browsing
Your personal information is kept private
Cons –
Ashley Madison is the ideal site for anyone looking for a hookup outside their relationship. It is super discreet and will not give away any of your personal info, while vetting members and being super secure. It encrypts messages so offers a lot more security than Badoo does.
If you are looking for this kind of thing, Badoo is not the place for you. It lacks diversity, and feels like a more judgmental environment to put yourself and your specific needs out there. Annoyingly though, the site is quite pop-up ad heavy which can disrupt the user experience.
Final Thoughts
Badoo can be a fun site for a casual date.
However, if you are not careful, you can find yourself paying money for sub-par features you didn't even want. Therefore it might be smart to take your investment elsewhere.
With a lack of developed structure, Badoo is more like a beta for a finished site. A lot of eye-catching functions are missing. Coupled with its security risk, you might just be paying for nothing.
Honestly Badoo is not the greatest dating site around. You will discover more and match with hotter and funner girls on other big dating sites like Bang Locals, Adult FriendFinder, and Ashley Madison.
Latest posts by John Santana
(see all)